After 28 years of helping the community's most hungry, Lois Shelton is ready to say goodbye — almost.
Shelton, the program manager at Lower Columbia CAP's Help Warehouse, will start her semi-retirement on Saturday, but she said she won't be gone completely.
"I'm going to take a break first and regroup and get used to not being here," Shelton, 57, said Monday in her office. "I think I might (come back) and help out a little bit."
Shelton said she is ready to enjoy her weekends in the company of her husband, Jeff, and their two children and 10-year-old granddaughter.
"They are very excited," Shelton said.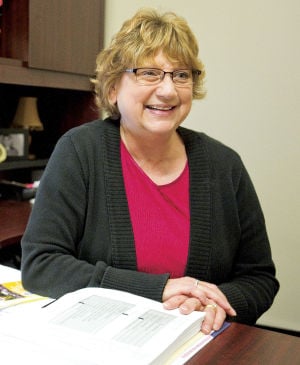 Lois Shelton, program manager of CAP's Help Warehouse, says she won't be "disappearing" after she retires this week.
Shelton began her career at CAP in 1985 on a temporary basis, working for 10 months in the Temporary Emergency Food Assistance Program and giving out cheese and butter to an average of 3,000 families a month.
It was her first major job after she quit working as a bookkeeper at a used car lot. Despite lacking professional experience as a community organizer, Shelton said she felt called to the job at CAP because she found she related well to the people she would serve.
"I've been hungry plenty of times growing up. There were times where we wondered if we were going to have a place to live," said Shelton, who grew up in Longview's Highlands neighborhood.
She stayed on the job and was promoted to her current position in 1999. After the switch, Shelton worked to strengthen the partnerships between Help Warehouse and other area food banks.
She said the popularity of the "cheese program" waned, and the Help Warehouse grew into Cowlitz County's food collection and distribution center for canned and boxed foods.
Shelton's work became administrative, but her favorite moments on the job were when she spoke to the people she helped and saw how she had made a difference in their lives.
"I celebrate small successes. I may not be able to solve all of the families' problems, but if I can make a positive difference for them today, I consider that a success," Shelton said. "If I put on a pair of shoes on a baby's feet or give them food, those are successes."
One woman from the Highlands thanked her for bringing CAP's new mobile food bank to their neighborhood, because it made residents "feel like they mattered," Shelton said. "Things like that make me feel like I'm doing the right thing."
Kay Green, a CAP volunteer and former United Way president, said Shelton had a way with people — whether it was those in need or the volunteers — that made them feel important.
"She's very concerned with everyone that's around her," said Green, who has known Shelton for more than 20 years. "She makes you feel like you're wanted."
CAP isn't losing Shelton completely — she's already signed up as volunteer with the Harvest Classic run/walk in the fall — but Green said the organization will have a big hole to fill.
"It's going to be a major loss to that program," Green said.